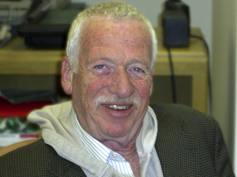 Robert Wendell King was born Dec. 7, 1937, in Denver, Colorado, and graduated from Fort Collins High School in 1955. He received his B. A. in English in 1959 from the State University of Iowa and returned to Colorado, getting his M. A. in American Literature from Colorado State University in 1961. He received his Ph. D. in English/Creative Writing from the University of Iowa and the Iowa Writers' Workshop in 1965.
After three years of teaching at the University of Alaska/Fairbanks, he began his career at the University of North Dakota in 1968 where he had a joint appointment teaching creative writing in the Department of English and in Elementary Education. In 1971, he was named Outstanding Professor. From 1975-1979 he also worked in the North Dakota Poet in the Schools Program. He retired as Professor Emeritus from the University of North Dakota in 1996, having received the UND Faculty Achievement Award for Excellence in Teaching, Research, Creative Activity, and Service. He has since lectured at the University of Nebraska and the University of Northern Colorado.
He has three children—Lisa, Lynn, and Lawrence, all living in North Dakota—and he currently lives in Loveland, Colorado, where he writes and directs the Colorado Poets Center.
To Contact:
Robert King
435 Harrison Ave.
Loveland, CO 80537
970-663-0893
rwendellking@gmail.com